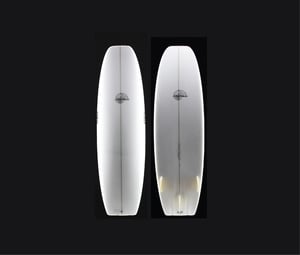 $

795.00
Designed in collaboration with veteran Hydrodynamica test pilot Daniel Thomson.
The Mean Machine is the end result of 8 years of research and design. Aspect ratio of the planing surface in accordance with concepts explored by Lindsay Lord, Bob Simmons, and Fibonacci.
Stringerless XTR foam with epoxy resin. Available as dual, tri, or quad fin. 19-20" wide for the tri fin, 19"-22" wide for dual fin and quad. Suggested lengths 5'3" to 6'2". Available with glass on bamboo fins, carbon fiber fins, or fin system.
A super high performance design utilizing Simmons' original planing hull theories. Shaped by Daniel Thomson exclusively for Hydrodynamica.
Simster and Fourke descriptions can be found here: surfboardsbyhydrodynamica.com. Click on PLANING HULLS and then board type ("THE SIMSTER" or "THE FOURKE")
To order a Golden Mean Machine: http://epoxysurfboards.com/inventory/Hydrodynamica.shtml
Contact rk@hydrodynamica.com for inquiries.